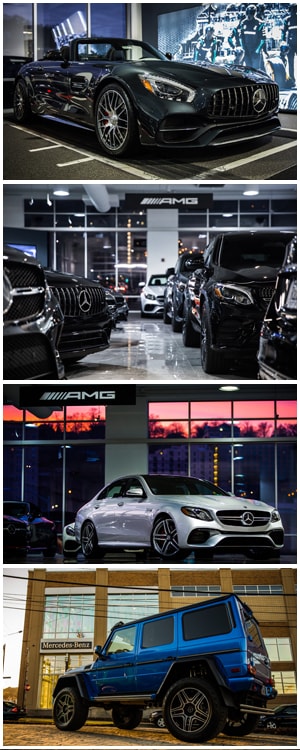 Welcome to Pittsburgh's Only AMG Performance Center
In 1967, two automotive engineers with a passion for motorsports began fine-tuning engines for Mercedes-Benz racecars in an old mill. Today, as the performance division of Mercedes-Benz, AMG creates some of the most sought-after vehicles in the world. They're the product of skilled craftsmen, designers and engineers who live to test the limits, and one shared conviction: on the road to driving performance, short cuts never win the race.
The performance division of Mercedes-Benz, AMG® builds vehicles individually to embody the core elements of the brand: "Driving Performance." An AMG® vehicle is not simply a Mercedes-Benz with more horsepower -- instead, these exceptional cars are the products of hundreds of thousands of development hours at the hands of skilled engineers, designers and craftsmen. The result is handling and power like no other.
Mercedes-Benz of Pittsburgh is proud to be able to offer new AMG® models as an AMG® certified Mercedes-Benz dealership. If you're looking for the ride of your life, you'll find it among our AMG® inventory, whether it's the C-Class, S-Class Coupe or GLE-Class that fits your personal style.
If you already own an AMG® vehicle, you can rest easy knowing that it will be in skilled hands when you bring it in to our service department. We have been through an extensive process to become an AMG® certified Mercedes-Benz dealer, and we are now pleased to share our expertise with you at our AMG® Performance Center.



SOME THINGS CANNOT BE MASS-PRODUCED.
From the beginning, the "One Man, One Engine" philosophy has guided AMG's approach to manufacturing. Even now, every AMG engine is hand built from start to finish by one of about 50 AMG Master Engine Builders in a special facility.
As the final step in the assembly process, the engine-maker affixes a plaque engraved with his signature to the engine cover. It's an enduring reminder that even the heart of a Mercedes-AMG has a soul.
EXPERIENCE AMG IN ITS NATURAL ENVIRONMENT
Under the guidance of professional instructors, you'll push your driving abilities and a selection of Mercedes-AMG models to the limit on some of America's most legendary racetracks. It's a high-speed, high-adrenaline driving adventure like no other. And it's engineered specifically to prove what you -- and AMG -- are made of.